OLD VINES ON ANCIENT TERRACES
THE BONELINE SITE
The Boneline is situated deep in the Waipara Valley, snuggled in the lee of the Teviotdale hills that provide protection from cool easterly winds but open to warming north west winds. The protective Southern Alps ensure low rainfall, abundant sunshine and often very warm summers, helped by the famed hot, dry nor'wester winds, though cooling sea breezes and the occasional cold southerly fronts temper this. Drought risk is mitigated by irrigation. Canterbury's long dry autumns coupled to good diurnal variance help provide phenolic ripeness, complexity and a variety of styles. Growing Degree Days for the Waipara region range between 1,000 – 1,200.
This property was purchased specifically for premium wine grape production. Our defined search area for a suitable site was, north of the Ashley River, with gravels and limestone, northerly facing, with a frost-free micro-climate.
We were one of the early vineyards planted in the pioneering phase of Waipara's development as a premium wine region. Our vines range in age – the older vines planted in 1989 growing roots to great depths extracting minerals from deep within the soils, and the younger vines being planted to refresh the vine stock with new clonal material. Four unique levels of terraces lead down to the river, creating distinctly different soil profiles and microclimates throughout this special place. We have matched grape varieties to specific sites.
Since we arrived here on 3rd August 1989, our NIWA weather station has consistently recorded warmer and drier conditions than most of New Zealand. In the last drought our weather station recorded the driest conditions in New Zealand, receiving only 43% of our normal rainfall – a tough year for growing.
We are inland and sheltered from both the cold oceanic driven easterlies. The southeasterly wind doesn't make it this far inland, and the northeasterly wind is warmed while blowing over land before reaching our site inland along the Waipara River. The southwest influence is split by Mount Grey and Mount Brown, creating a rain shadow over our narrow river valley site which often causes extremely dry conditions. There is a strong northwest influence that creates warm dry conditions, reducing excessive vine vigour as well as insect populations and fungal disease.
Katabatic winds and natural air drainage down the river valley create virtually frost-free conditions. We have only suffered two damaging frosts in 33 years which affected our early budding varieties. We currently have no frost control, relying on the site's natural attributes and our management of conduits to aid airflow. We do not use insecticides; we only use organically registered fungicides and we use no residual herbicides. We handpick grapes giving quality control over the fruit selected.
BLOCK 1 / THE AMPHITHEATRE
This block's soil profile consists of deep alluvial loams over uncemented gravels. The deep semi-circular, amphitheatre shape of this lower hidden terrace accumulates massive heat units and also provides shelter for the vines – a great climate for growth. The Amphitheatre is home to our Cabernet Franc and Cabernet Sauvignon vines and provides the warmest conditions on the property, perfect for the late Autumnal ripening these varieties adore.
BLOCK 2 / HELLBLOCK
In 1990 we began planting vine cuttings in the deep upstream terrace called Well Block – The location of the irrigation pond. By the end of a horrible hot day planting the vineyard crew had renamed this terrace Hellblock. The name suits this part of the property, as northwest dust storms and small tornadoes were common prior to shelterbelt establishment. The vines are growing on free draining alluvial river silts and chalky gravels specific to this site. Being so close to the river, and deeply sheltered from the south and east, the micro-climate of Hell Block brings a unique quality to the Chardonnay, Riesling and Sauvignon Blanc fruit planted there.
This terrace has an undulating bar and channels micro typography of underrunning streams through the stony sands beneath. You can see where these underground streams run by the extra vigour of the vines and shelter trees growing astride them.
BLOCK 3 / MERLOT
This terrace is unique to our property. These are the only vines growing on this level and soil type in Waipara. There are bands of river silt over limestone gravels with intense levels of calcium carbonate. The block is dry and barren contributing to conditions that grow perfectly balanced vines. The fruit goes into our barrel-fermented sauvignon called Riverbone. This block also grows our merlot for Iridium.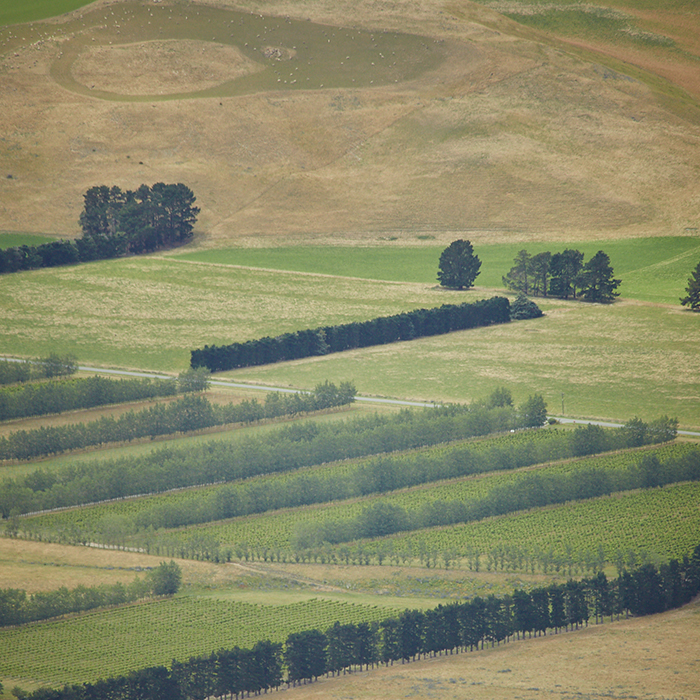 BLOCKS 4 – 9 / TOP TERRACE
This block visible from the road is 150m above sea level and has a thin layer of loam over uncemented gravels, enabling the vine roots to penetrate deep into the soil profile as they age. Bone dry elevated gravels allow us to control vigour, creating big flavours. Bands of silt and heavy gravels laid down by fluctuations in river flow over thousands of years, add extra complexity to our top terrace blocks. Through this level, as the river has flowed further downstream, the material becomes finer, with less large boulders – as the large heavy materials are dumped earlier and upstream in the western end of our property.
We grow old vine Pinot Noir here- a selection of deep dark velvety Swiss clones and also slightly younger fruit bright Dijon clones – complexity which adds to our pinot noir blending programme.
A selection of Chardonnay clones – and blocks of Riesling and Sauvignon Blanc also grow at this level.
THE VINEYARD WALKWAY
We have all of this information and more spread out over 22 signs along our vineyard walkway.