Apr – 14 – 2023 EXPERIENCE VINTAGE
It's been a crazy last few weeks with the 2023 vintage kicking into full action. In this news letter we talk Vintage day, Wine deals and destroying farm vehicles – so read on for more!
If you'd like to see what's been going on during vintage in more detail check out the videos we have been uploading to instagram.
Experience Vintage At The Boneline

We hosted the first ever Experience Vintage at The Boneline day! It went so well and it was great to see many familiar faces on the day. The Wine Club really showed up for this event making up most of attendees. Most of the people who buy wine from us regularly are part of the wine club as they receive 15% discount on everything- so if you buy our wine regularly then it's a good option.
On the day, our Hellblock Riesling was being picked so it was all go in the vineyard and the winery.
We started out by tricking every one into picking grapes. It was good fun as grape picking is interesting for the first 30 minutes that you do it and after that point often there is need for jokes and or singing. Hellblock has no cell phone reception so forget listening to your favourite songs or audio book if you come unprepared.
It was good showing everyone the process of hand picking and the effect that hand picking has on fruit quality, and how it all works without having to reach the point of boredom where you start song singing and playing I spy in the vines.
After this we all had a cuppa and then Tristan took us for a wander through some other parts of the vineyard to check out the fruit of some other varieties.
Next we went for lunch at the winery, put together by Kate Mc Millan our friend, neighbour and caterer for the cellar door -while tasting some new release wines of course!
Next came a winery tour with winemaker Willie to check out what was going on at this point in the vintage. We tasted juice from our Hellblock picking session and checked out some fruit processing.
It was a very cool day and I was really happy to see it happen as I had been talking about this idea for a while now and it's another idea that has finally fallen into place.
It's important to show what we do and why, as we put a lot of effort into growing and making everything on one site, choosing where the vines are planted and how the wine is made – with a dedicated passionate team. So for me being a younger member of the family it's awesome to get people out here and show every one what we do and what goes into getting the wine into the bottle here and the thought and consideration that goes into every step! More to come next year.
Cameron Douglas MS review
The Boneline Waimanu Pinot Noir 2019, Waipara, North Canterbury
Complex and detailed bouquet with aromas of wood spice and mineral, dark red berry fruits and fine toasty barrel spice of clove and vanilla. Dry, complex, textured and rather delicious on the palate with a fine tannin and core red fruit flavoured mouthfeel. Acidity carries flavours through the palate accentuating primary cherry and plum flavours then toasty spices from barrel. The mineral attributes are a constant throughout the tasting. Well made with excellent drinking on its own or with food. Best drinking from 2022 through 2030+.
94 Points
Excellent
As promised let's tell some silly vehicle stories.
So lately we have had a massive knee jerk reaction to the way that we think about and abuse vehicles here at The Boneline. As some of you may know for the last 10 years this place has been running off the dying breath of Nissan Terranos. Lindsay went through a phase of buying them with dead reg and no WOF for a few hundred dollars. They were a lot cheaper than a quad and provided extra luxury such as multiple seats, a heater and a boot to store tools in. However the Terranos signed out on us in bulk last month, resulting in them all being sent to the wreckers for around $1,500 each (returning a monster profit of at least $1,000 each) after 10 years of vineyard abuse and as little maintenance as possible. We thank the Nissan Terrano for it's service to The Boneline over the last 10 years. We would buy more of them but for some unknown reason they are now worth more. I will include some photos of the most iconic Terranos.
Above is Black Beauty or The Pig depending on who you talk to on what day.
Until it was sent to the wreckers Lindsay was driving the red Teranno with the most sentimental value to the family that lots of us learned to drive in. It's by far the flashiest Terrano we had being turbo, manual and having an amazing red interior that is very very easy on the eyes. This vehicle has been stolen, sunk in the river, blown a gear box on the Remarks' access road and finally left for Lindsay to destroy on the vineyard, driving around with the front shocks uninstalling themselves. Its' sad to see a vehicle that has done so much for the family go like this but there is only so much we can ask of the poor old chariot. I will miss it at least.
So in the Terrano's absence we have had to try and diversify.
Welcoming the Nissan Navara to the team. The Navara looks suspiciously like a 2000's version of a Terrano and this Red one has become the new trusty work hack. It even has a warrant of fitness so that's pretty legit -and we will try to hold onto this gold ticket to Amberley and back.
Welcoming the Mazda Bongo to the team!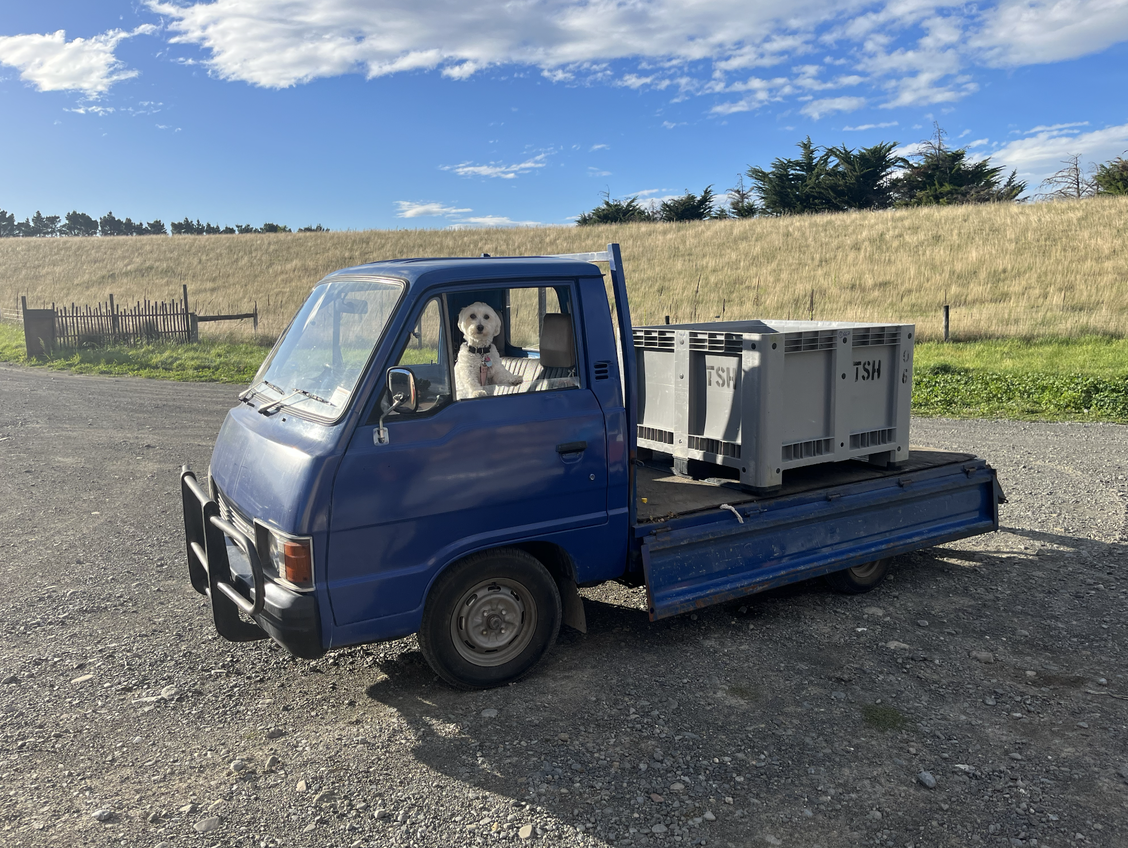 The Bongo is the newest and most controversial entrant to the Boneline work force. The Bongo was found for sale on the side of the road in Amberley. It's a great vehicle full of character. I love it, but I also don't have to drive it around the vineyard – so not everyone is excited to hear my admiration for it's existence. Adam had been driving the Bongo most of the time thus far. He has some harsh words to describe it's handling and ride quality. He has also ripped the door handle off the Bongo and filled it with two stroke petrol mix, so the relationship is already tense. Lindsay thought he would drive the Bongo to Amberley the other day, but once he got halfway he was so underwhelmed with the torque he turned around to take it back home.
Lindsay has been driving Snowy (The white van that looks like an ice cream truck or prison van) around the vineyard and we all worry for Snowy's future as he crashes it up and down the driveway. But then again he has also been doing this in his 58 Chev project so we won't take it personally.
The story is still developing, I will keep you all updated as we continue to explore unconventional methods of vineyard transport. What car will survive and what car will be eliminated. Tune in next newsletter.