Aug – 1 – We can finally share this news!
WE HAVE BIG BIG NEWS!
New Labels – New Wines – New Event
If you are part of our wine club you will already have heard that we have been sitting on two very special wines from 2021 and we are now ready to show them to you all. 2021 was a small vintage so there is a limited quantity of these wines and they will sell out.
INTRODUCING FOR THE 1st TIME EVER
THE BONELINE 2021 CABERNET SAUVIGNON
AND THE BONELINE 2021 CABERNET FRANC
2021 was a very small vintage and the silver lining (other then the quality) of the whole situation were these two wines keeping us all interested and excited. This was also the first vintage that Willie Trew joined us as winemaker from Waihekie Island only to arrive here to a slow small vintage, so these wines were a bit of a passion project to keep us all excited. The fruit was quality as there was so little of it there was plenty of sunlight exposure on the vines.
WE ARE CELEBRATING WITH OUR 1st EVER IN-WINERY DINNING EVENT.
Tickets live today!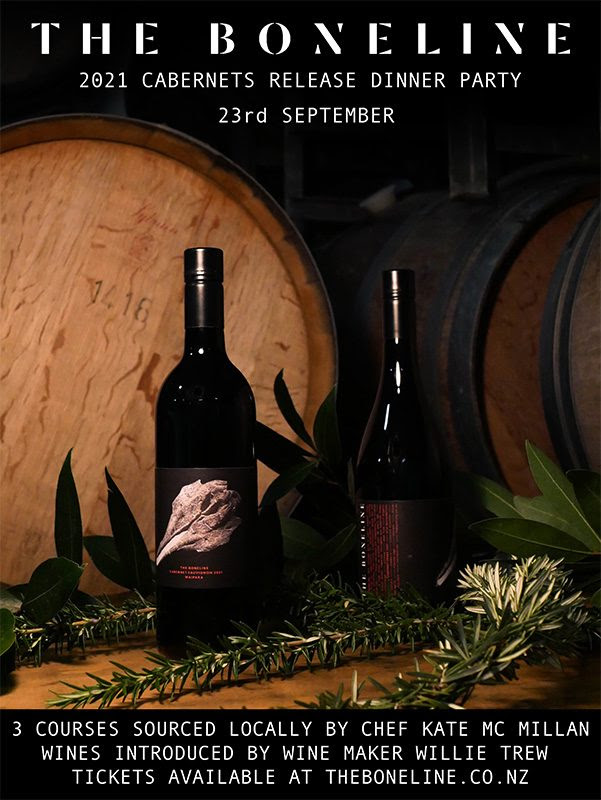 Come and join us for a special in-winery dining experience with wine maker Willie Trew introducing the wines to us all for the first time! We have never made a 100% Cabernet Sauvignon before so this is pretty exciting and we can't wait to see how it is received.
Enjoy a 3-course dinner presented by Kate Mc Millan local food and foraging expert with wine matches.
HOW DO I KNOW THESE WINES ARE GOOD!? IS THIS NOT JUST ONE OF JACKS MINDBLOWINGLY CONVINCING MARKETING EDMS!?
Good point! My newsletters are so amazing, professional and convincing we will need to look into it further by reading some of Cameron Douglases NEVER SEEN BEFORE reviews.
The Boneline Cabernet Franc 2021, Waipara
Complex, ripe and intense with a core of ripe and pure scents, dark berries, olives, stone and dried herb qualities. There's a persistent and deep-seated core of gravel and dark clay soil tones adding complexity and breadth. Complex and youthful. Delicious, taut and textured on the palate with tannins and acidity delivering texture and length. There's also a saline quality set against a nut, baking spice and dried herb baseline. Dark berry fruit flavours and toasty barrel spices deliver contrast and weight as well as a varietal signature. A lovely wine that will continue to develop and age well. Best drinking from 2026 through 2036.
96 Points
Outstanding
The Boneline Cabernet Sauvignon 2021, Waipara
Intense, youthful, varietal and very enticing bouquet of black berry fruits and dark skinned plums. Layers of tobacco and new leather, clove and toasty barrel – all amplified as the wine relaxes in glass. Warm, toasty, a core of black berry fruits and plums, violets and baking spices are at the core of this wine on the palate. There's intensity and power, youthful and vibrato. Firm tannins and a backbone of acidity solidify the foundation for fruit, oak, baked nut, clove and other spices, texture and ageing. A delicious wine that will reward those who can wait while it ages in cellar. Best drinking from 2027 through 2037+.
95 Points
Outstanding
PRE-ORDERS
Since I have written a whole newsletter dedicated to these wines I have decided to upload them for pre-order, so if you want to make sure that you get one of each pop a pre-order in!
They will be uploaded individually on the 23rd September for purchase on the day of the dinner. The two packs will also be collected on this day or sent out on the following Monday.
Thanks for opening this email! We hope to see some of you at the dinner where we will tell the full story with you as we share these wines.
Jack Hill