It's starting to get hot out here, yesterday it was 26C degrees and the vineyard is bursting into life growing a few centimetres every day. We have lots going on with the growing season ramping up while the upcoming Silly Season starts to swap gears as well!
The news:
New Tractor
What's this flash thing that's turned up in the yard!?
It's our new John Deere tractor. It looks a bit out of place but some of our other tractors have just been begging for mercy after putting in some solid years of service in a harsh environment. The big Ford even took a trip around the clock and still wants more.
Tristan has a few words below about the new tractor.
"The new tractor is 90 hp and uses 70 litres per minute of oil flow, meaning that it has the power to run multiple implements and future proofs for potential growth making our work in the vineyard more sustainable saving diesel and tractor passes. This is important with our under vine mowing during growing season. For the first time we have lights, seat belts working AC and a Bluetooth stereo so it's pretty out of this world for us."
Wine Club
We have a wine club! The 1st subscription shipment went out on the 1st of November and we thank everyone who has already joined. We haven't promoted the wine club until over the last week so it is cool that people believe in the idea enough to just find it on the website and sign up on their own accord.
If you regularly order wine off us it's sort of a no brainer though as you get 15% off everything on the website and at the cellar door. Here are the other benefits below.
We are planning a vineyard, winery tour that will be free for wine club members on Saturday 1st April 2023 Saturday 1st. April with a ploughman's lunch here at the cellar door.
Wine Club Deals!
15% Discount on your cases and all other orders
Invites to wine club events
Allocated stock (never get caught missing out again)
15% Discount at our cellar door
Priority Access to limited stock
Club shipping dates – May 1st – November 1st
Christchurch Urban Wine Walk
We will be taking part of this year's Urban Wine Walk. Urban wine walk is a Bar Hop style event where wineries partner up with bars to bring wine tasting to town. Jump around town and taste some new wines!
Kicking into growing season
We are getting excited about this up and coming 2023 vintage. The vineyard is kicking into growing season. We have had lots of rain over winter and hope that this combined with our new under vine mowing leads to a larger quantity of fruit than the last two vintages. Example of under vine mowing bellow…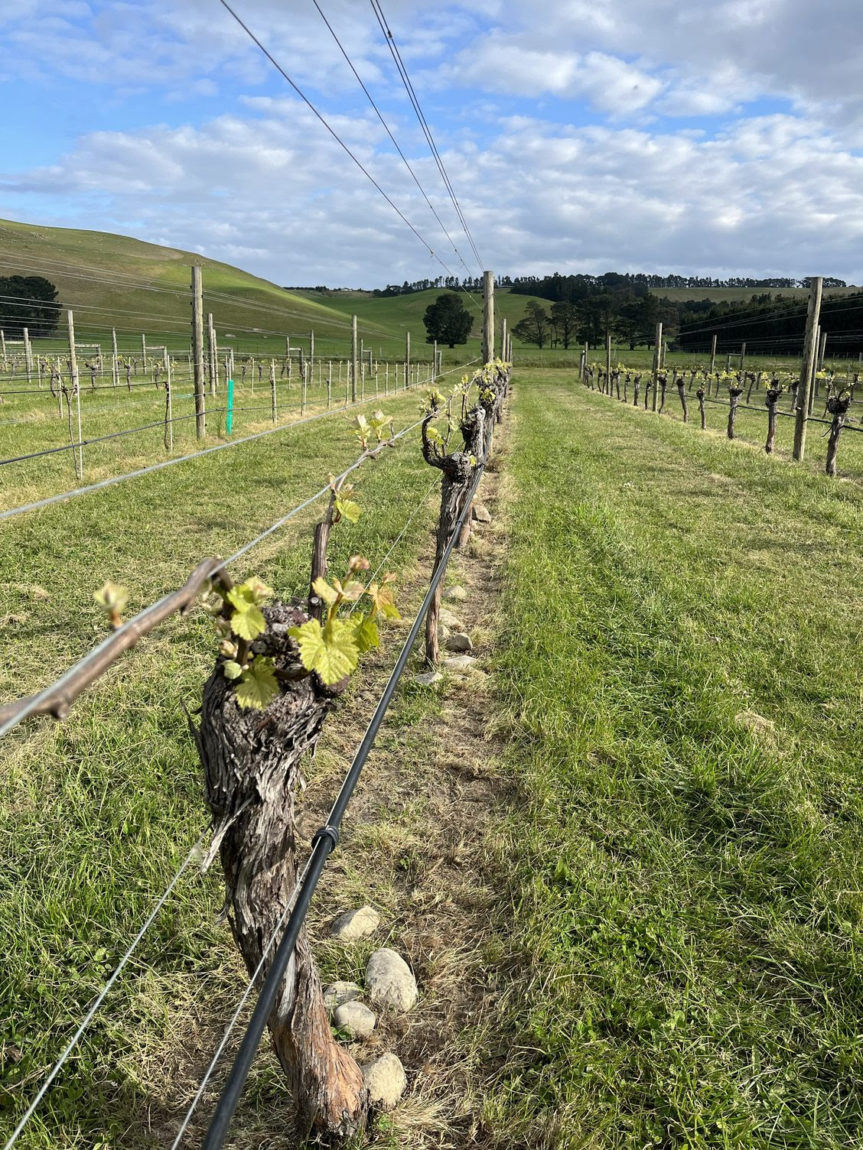 Tristan notes growing season is off to a flying start. We have had a very even bud burst, No frosts to speak of, the young vines have been fertilised and are thriving. We are excited to see them get up to the wire.
We have laid out a new propagation nursery to ensure that we have enough young vines for gap filling in our old vineyard and planting a new block. These vines will be own-rooted vines, this is clonal material taken from our own vineyard.
It's going to be an exciting season and we can't wait to see what the 2023 vintage brings on… But we don't get too excited until it's all in the winery! It's a long wait until harvest which usually starts around mid-March.
If you want to receive our full newsletter with more information and special deals hit the link below.